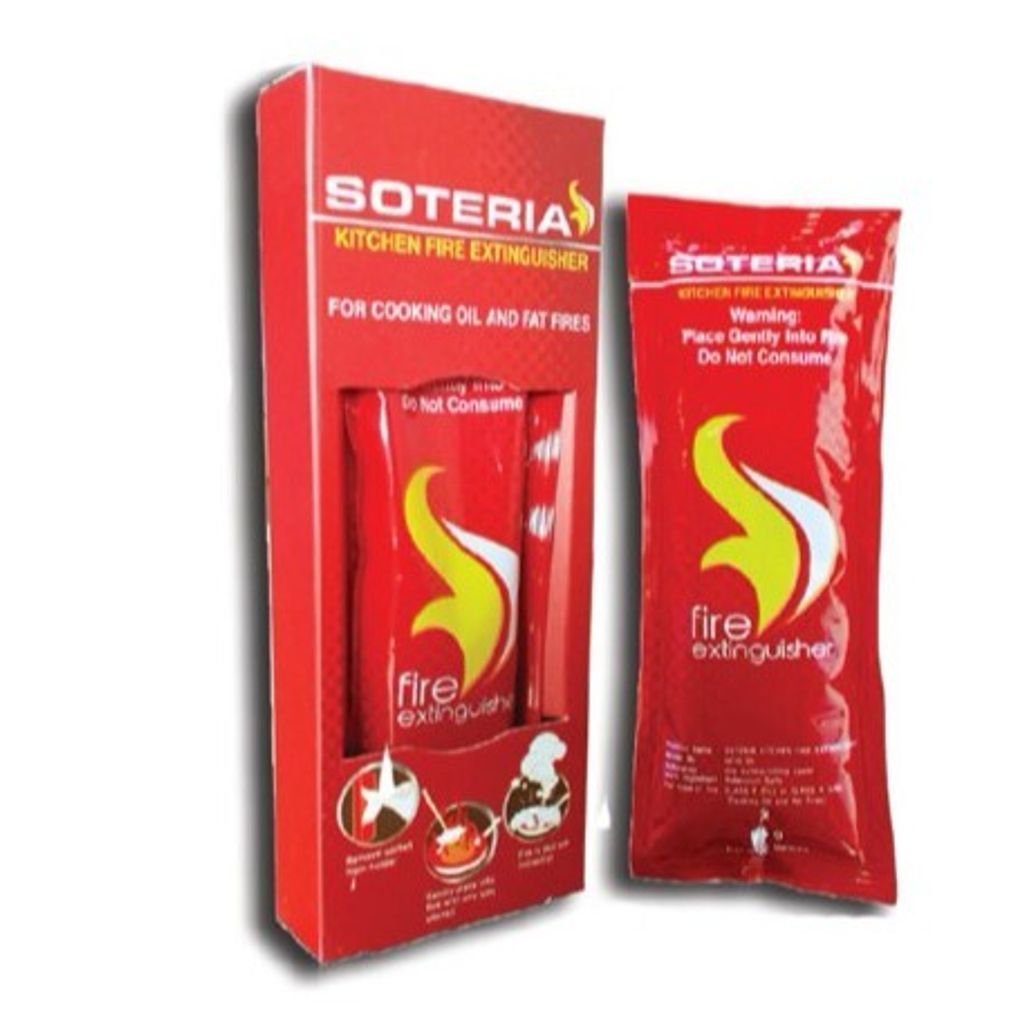 Soteria LHHI0043 Innovative Fire Safety Fire Extinguisher For Cooking Oil
Soteria LHHI0043 Innovative Fire Safety Fire Extinguisher For Cooking Oil
SOTERIA KITCHEN allows you to extinguish the fire in one simple step: Gently drop SOTERIA KITCHEN into the pot. SOTERIA KITCHEN fire extinguishers are sachets that react instantly with hot, burning cooking oil or fats by forming a blanket of cooling foam that snuffs out the fire and prevents ignition. The simplest to use a kitchen fire extinguisher. Cooking oil or fat fires can happen for numerous reasons, most commonly as the result of an unattended stove. Trying to extinguish the fire using conventional fire extinguishers or traditional methods can be dangerous.
Unlike conventional fire extinguishers, SOTERIA KITCHEN is as simple to use as you can get. Simply drop the sachet into the burning pot or pan and watch as the instant foam does the rest. Fire-fighting, made simple! Convenient Wall Holder Every sachet of SOTERIA KITCHEN comes prepackaged in its own convenient wall holder. The wall holder can be attached to any smooth surface with adhesive to grant you quick access to the Soteria KITCHEN sachet in times of emergency. The compact and elegant design ensures that SOTERIA KITCHEN is not obtrusive to your kitchen's decor, yet is easily spotted and ready for use when the time comes.
SOTERIA KITCHEN has a 5-year lifespan.
In line with Soteria's mission of keeping things simple, SOTERIA KITCHEN requires no maintenance or upkeep. Simply attach the wall holder to your kitchen wall and you're all set! Unlike conventional fire extinguishers, SOTERIA KITCHEN does not need to be refilled, checked for pressure, or inspected annually.
SOTERIA KITCHEN is designed to react only with fire and will not harm you or your loved ones if you come into contact with its chemical content. The SOTERIA KITCHEN extinguishing solution is classified as non-hazardous according to 1999/45/EC.
The product has been tested for safety and it is suitable for home, office and hotel.
Product Specification
Product feature: Easy to use, 5-year lifespan, maintenance-free, environmentally friendly and non-hazardous fire extinguisher for kitchen against cooking oil
Origin brand: Soteria

---